Can glycolic acid make acne worse? There are absolutely a lot of products circulating in the market that can do worse than good. Glycolic acid is one example of a product that can exacerbate acne – when not used properly. Is glycolic acid good for acne? What are glycolic acid effects for acne? Are there benefits of using glycolic acid for acne? Here are ten interesting facts when it comes to the question: can glycolic acid make acne worse?

1. Glycolic acid is a natural product of sugar cane and is used to dermatologically to improve skin condition.
2. As recommended by the Mayo Clinic, superficial glycolic acid exfoliates and removes the outer layer of skin to reveal new, fresher, blemish-free skin.
3. Glycolic acid works by loosening strong bonds of the epidermal layer to the skin to stimulate skin cell turnover as well as remove dry, dull and dark skin. This provides skin a youthful glow.
4. Can glycolic acid make acne worse? Although glycolic acid aims to reduce acne outbreaks however skin peels and exfoliation can often cause cell build up on the skin, eventually causing clogged pores and acne.
5. In addition, oily skin and acne prone skin have slow cellular turnover as well as slow exfoliation process thus often resulting to clogged and enlarged pores, acne outbreaks and appearance of whitehead and blackheads.

6. The American Osteopathic College of Dermatology (AOCD) suggests heightening natural exfoliation to prevent or calm down acne flare ups.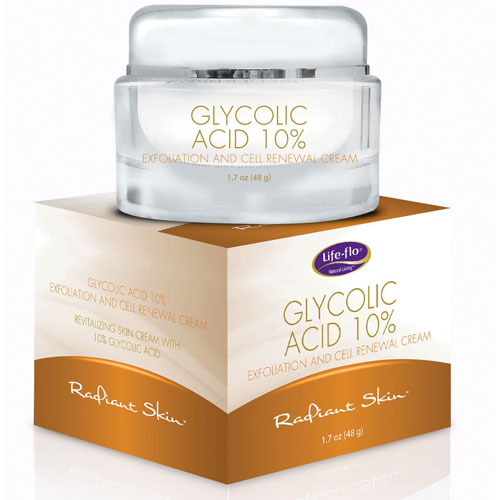 Life-Flo Glycolic Acid 10% Skin Cream, 1.7 oz, LifeFlo
7. Glycolic acid can help remove acne scars. Regular exfoliation smoothens skin and removes scars as well as pigmentation.
8. According to Redding Dermatology, the frequency and amount of glycolic acid should be gradually increase – just in case your face would have a drastic reaction to glycolic acid.
9. Although there are success stories regarding glycolic acid – as well as devastating rumors that it can worsen acne, chemicals having acid in them are all irritating to the skin, but in a good way. Acid help peel old, dull skin to stimulate cellular turnover and reveal smoother, flawless skin. However, it is undeniable that some types of skin are hypersensitive and easily causes breakouts.
10. The safe method of using glycolic acid is to use it gradually. Moreover, try a patch test. Only apply to a small area of your skin to test the product as well as to test your skin's reaction to it. Now, can glycolic acid make acne worse? It can if not used properly.
Check Out: The Best Acne Treatment in The World
Incoming search keyphrases: can glycolic acid make acne worse, does glycolic acid make acne worse, will glycolic acid make acne worse, does using  glycolic acid make acne worse, is glycolic acid good for acne, is glycolic acid really good for acne, glycolic acid treatment for acne