Can rice water lighten skin? Rice, as everyone knows, it the staple food of South East Asia. Rice is a good appendage to a suitable viand. However, what is rice exactly? What are its benefits? Can rice water lighten skin? How can it improve skin condition? Can it treat various skin diseases? How is it prepared? There are a lot of questions pertaining to this new kind of skin treatment. Moreover, here are 10 important facts you need to know about rice water – from its nature, preparation to skin benefits.
1. What is rice? Rice is the edible grains of a cereal plant rampantly found in South East Asia. It is either served hot or cold and is prepared by soaking it in water then cooked until the grain is soft and supple. Rice is mainly starch and scores high in carbohydrates. It is a plant roughly cultivated in warm and humid areas with, of course, occasional rain and a good irrigating system.
2. There are many types of rice ranging from expensive Jasmine to local ordinary white rice. The price and taste may vary but the content and consistency are almost the same. However, can rice water lighten skin? When it comes to beauty, aesthetics and smooth light skin, can rice water have promising effects?
3. There are many questions regarding rice water. How do you apply it? Will you simply rinse rice and use the water to wash your face? Can rice water lighten skin? Moreover, there even notions like exposing your face to steam while cooking rice. There are many stories behind rice water and there are even some denying its cleaning properties.
4. In truth, when it comes to the question "can rice water lighten skin?" rice water is flooded with vitamins and nutrients to lighten skin a shade or two. Rice is packed with such nutrients and rinsing it in water can help amplify the effects of such nutrients. Vitamins can leak out into the water that's why rice water is a good alternative than plain water.
5. Recent research have seen a high amount of Ferulic Acid, a potent antioxidant, in rice water. Antioxidants are good because it helps alleviate the skin from oxidative stress caused by frequent exposure to irritants, allergens and toxins. Moreover, this antioxidant rids the cells of free radicals giving way to easy cellular regeneration and healing. All in all, cellular regeneration produces healthier cells, ones that are a shade lighter compared to stressed out dark skin.
6. In addition to Ferulic Acid, rice water also has a high amount of allantoin, an anti-inflammatory agent. When the body is irritated of inflamed – in cases such as sunburns, burns, lacerations, blunt trauma – the body compensates by promoting healing. This in turn causes immature cellular regeneration and the dead skin cells are left behind and are not necessarily removed. Inflammation causes redness, swelling and might pose for further irritation.
7. Can rice water lighten skin? In cases of sunburns, the skin compensates by producing melanin. Melanin is responsible for the dark pigmentation in skin. Allantoin, on the other hand, prevents the production of melanin as well as inflammatory processes. The skin's natural color is preserved here.
8. Rice water is also a good exfoliant. Scars, marks, hyperpigmented areas, are caused by stagnant dead skin cells. If dead skin cells are not removed, it will continue to deteriorate and discolour. Moreover, skin cells shed in a period of days. Without proper exfoliation, the skin turns dull and dark. There is a huge difference between healthy and unhealthy skin. For most people, they consider the former a suitable appearance.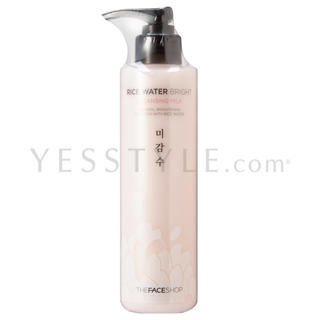 The Face Shop – Rice Water Bright Cleansing Milk 200ml
9. Rice water is a good exfoliant. With proper exfoliation, skin can look best. With its antioxidant and anti-inflammatory abilities, expect skin lightening in a few weeks of continued use. The procedure is rather simple compared to the complicated procedures that most are asking. Simply pour water into a small bowl of rice. Wait for 30 minutes to an hour, then strain the liquid and apply generously to face like your regular toner.
10. There is no recommended frequency in applying rice water. Simply apply it like your daily toner. Rice water also has properties that prevent the production of melanin. Moreover, rice water can also relieve eczema and other inflammatory skin conditions. Now, can rice water lighten skin? Yes it has the ability to lighten skin.
Check Out:
Best Skin Whitening Cream in The World