Can almond oil lighten skin? Almond is not just the nut you find in most tasty chocolate treats. Almond goes beyond that. Surprisingly, almond is not just a palatable delicacy, it also possesses skin benefits. Over the years, it has been proven that almond oil can tame frizz, fly away hair and split ends. Moreover, it can also fix breakouts, blemishes and lighten skin. Want to know the godly secrets on how to lighten skin naturally? What is almond oil for skin and what can it do to whiten pigmentations? Are there any other ways to lighten skin? Here are ten important facts you need to know about the question: can almond oil lighten skin?

1. Almond, for starters, is an edible oval nut. Almond oil, meanwhile, is the oil derived from it. The oil is also known as Sweet Almond Oil, a pale yellow lubricant used as regular oil in massage and aromatherapy sessions. It is regularly used as base oil for massage; it can also be blended with other carrier oils and essential oils.
2. Almond oil is different from bitter almond essential oil. Bitter almond, according to the Encyclopedia of Essential Oils by Julia Lawless, contains an alarming amount of poison cyanide and should not be used in therapy or in any way.
3. There's no contraindication to using almond oil, unless you're specifically allergic to almonds. Nevertheless, almond oil is safe for all skin types, sensitive or not. Almond oil works best as a good moisturizer without the greasy feel.

4. When it comes to moisturizing, almond oil is a pro. The primary therapeutic effect of almond oil is to moisturize skin and get rid of dryness and flaking, especially in elbows, knees and heels. Although the oil might go rancid immediately, blend the oil with an effective antioxidant oil such as vitamin E.
5. Can almond oil lighten skin? When it comes to lightening skin especially in terms of dark circles under the eyes, almond oil is dependable. Simply mix a few drops of the oil with a few drops of raw honey and massage onto dark circles before bedtime. Massage gently since the skin under the eyes easily stretch.
6. Can almond oil lighten skin? When you need to lighten your skin tone, you first need to get rid of dead skin cells to increase cellular turnover. Moreover, this means exfoliation. Almond oil, if not the best, is one of the best base oils there is. The oil works out as an excellent sugar scrub that would definitely remove unwanted dull skin cells and, in the process, lighten skin.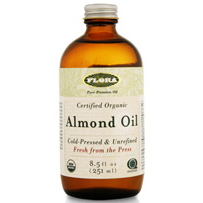 Almond Oil, Certified Organic, 8.5 oz, Flora Health – $26.39
7. To make sugar scrub with almond oil, simply combine half a cup of sugar with one to two tablespoons of almond oil. Apply to skin thereafter. You might want to do this in the shower since it might go messy. Rub with gentle force until skin feels smooth. Rub gently on your face though. The skin on your face easily stretches with mild tension. Rinse thoroughly thereafter.

8. Since your face may tend to stretch and cause wrinkles, use almond oil as a tightening mask. After cleansing face, apply a light coating of almond oil onto face until it dries like a mask. Reapply as necessary.
9. In terms of relieving skin from irritation, such as inflammation, sunburn, eczema, psoriasis and other bacterial invasion, simply mix two tablespoons of almond oil, two drops vitamin E, five drops of German chamomile, and five drops of Lavender. Apply generously and at several times a day until irritation calms down.
10. Almond oil is indeed an essential oil with soothing effects on skin. When it comes to the question: "can almond oil lighten skin?" the answer is indeed yes.
Check Out:
Best Skin Whitening Cream in The World